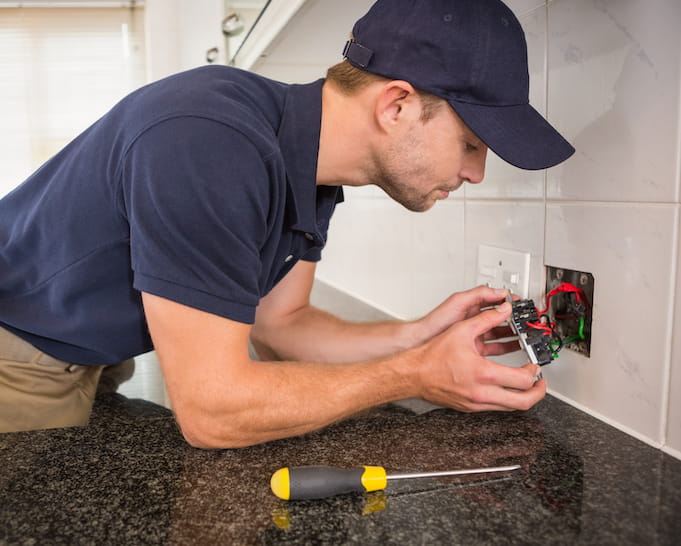 Electrical Repairs Atlanta
At RS Andrews, we specialize in a wide variety of electrical repairs. We know as a property owner, you can rarely plan for electrical repairs and that it can be stressful when you experience electrical problems. If you are experiencing electrical issues at your home, this could be a sign of a more serious underlying issue, so it is important to call a licensed electrician to troubleshoot your issue.
The professional electricians at RS Andrews are trained to diagnose your electrical problems quickly and safely. We will evaluate your situation and present your options to you keeping in mind cost, and especially, the safety of your property and guests.
Hazardous Issues to Watch Out For
There are many electrical issues that are frustrating, but totally harmless, like a broken light switch. However, some repairs could potentially be hazardous if not taken care of by a licensed professional. For example, if you're experiencing flickering or dimming lights, this could be a sign of loose or corroded connections that could lead to sparking, overheating, and fires. Sparking outlets could be a sign of short circuiting which leads to exposed wiring that could result in a fire if the electrons spark. It's important to seek professional help from a certified electrician in your area to make sure your home or office is safe. 
Isolated Power Outages
We've all experienced a power outage during a storm and the sigh of relief when the sun comes out and the lights come back on simultaneously. But what about power outages that are isolated to one room? The causes could be anything from a tripped breaker, overloaded outlet, or a GFCI upgrade. If you look into these issues and nothing sets the power back on, then you're looking at a more complicated issue that a licensed electrician at RS Andrews can help you with in no time. It's important to have an experienced professional solve your electrical issue because you may need new wiring, and if wiring is not done correctly, it could result in serious safety concerns like electrocution. 
Whether you need a repair on your circuit breaker, appliance power repair, or a repair on your phone data and wiring, we do it all! Call RS Andrews at (Sorry, we are unavailable) for reliable electrical services you can trust!